Now open: New mental health hospital for York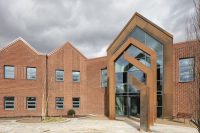 Tees, Esk and Wear Valleys NHS Foundation Trust (TEWV), has announced that Foss Park, the new, purpose-built mental health hospital, located on Haxby Road in York, has opened on Tuesday 21 April.
Foss Park is a 72-bed hospital in which TEWV have invested £40.6 million. It provides two adult, single-sex wards and two older people's wards. All wards are on the ground floor, with single bedrooms and en-suite bathrooms. Each ward has access to outdoor garden areas and multiple therapy spaces.
Foss Park also has a Section 136 assessment suite – a place of safety for those who have been detained under Section 136 of the Mental Health Act, an ECT suite and dedicated space for research and development. York's adult and older people's crisis staff teams and the care home and dementia staff team will also relocate to Foss Park.
Carers in York and York Carers Centre staff have been involved in a range of design workshops and working groups, along with service users, partners and the local community, to help inform and influence the design of the build.
TEWV will host a number of events, when possible, to celebrate the opening of Foss Park for services users, carers, the local communities, partners and staff.
Services will move into Foss Park from the following TEWV sites:
• Peppermill Court, York
• Cherry Tree House, York
• Meadowfields, York
• Cedar and Rowan wards, Briary Wing at Harrogate District Hospital
• Some services currently at Huntington House, York