– Carers Hubs: seed planting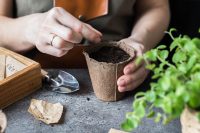 Join us at our friendly, free Carers Hubs taking place regularly.
At each Hub we catch up and try our hand at something new, which changes monthly. The person you care for is welcome to come along with you.
Seed planting with St Nicks in April 
Come along for a chat and some fun decorating a pot and planting seeds to grow and keep at home. All the equipment will be delivered to your door beforehand.
When: Please choose one of the following dates for these online sessions, which you can also dial into via telephone:
  Wednesday 14 April 2.45 to 4pm
  Tuesday 20 April 6.45 to 8pm
  Thursday 29 April 10.15 to 11.30am
Booking: Please contact us to book a place on enquiries@yorkcarerscentre.co.uk or 01904 715 490.
Map Unavailable