– Autumn planting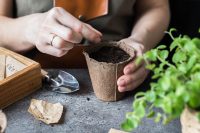 Come along for a chat and a relaxing planting activity at our Autumn Planting sessions.
We're running these virtually and in partnership with St Nick's, and the aim is to have a bit of time for yourself, where you can catch up with our staff and other carers. We'll be  decorating a pot and planting seeds to grow and keep at home.
All the equipment will be delivered to your door beforehand.
When: Please choose one of the following dates for these online sessions, which you can also dial into via telephone:
 Wednesday 8 September 2.45 to 4pm
 Thursday 30 September 10.15 to 11.30am
Please get in touch to book a place: events@yorkcarerscentre.co.uk 
Map Unavailable